The Adjutant General's Welcome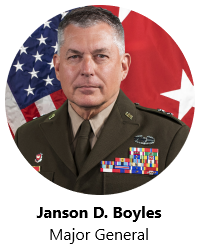 Welcome to the Mississippi National Guard web portal. I hope that this will become your first stop when you need information about the Mississippi Army and Air National Guard, the Mississippi Military Department, or our rich history.  It is truly an honor and privilege to serve with so many dedicated and talented professionals. 
Please join me in taking every opportunity to thank these Soldiers and Airmen for their service.  Our freedom has been paid in part and parcel by their selfless service since 1798.  Let us also remember and extend gratitude to our military families, whose sacrifice is no less honorable than that of the Citizen Soldier.
The primary focus of the Joint Force Headquarters, Mississippi, is to ensure that each and every one of our Mississippi Guardsmen are fully trained and prepared to answer the call to duty, be it to the State in time of emergency or to the Nation in time of war.
Again, welcome.  Please contact us if we can be of assistance.