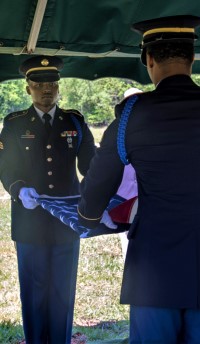 ​An honor guard, or ceremonial guard, is a ceremonial unit, usually military in nature and composed of volunteers who are carefully screened for their physical ability and dexterity. Only those persons who are highly motivated and maintain exceptionally high standards of appearance and conduct and show aptitude for ceremonial duty are likely to be considered.
A primary role for honor guards in the United States and some other countries is to provide funeral honors for fallen comrades and to guard national monuments. An honor guard may also serve as the "guardians of the colors" by displaying and escorting the national flag on ceremonial occasions at official state functions. Finally, honor guards usually provide detachments for review by visiting heads of state. Honor guards also serve in the civilian world for fallen police officers and other civil servants. Persons serving in this capacity may or may not be designated, meaning they may not be assigned to serve each and every time there is a funeral in their jurisdiction.
In the U.S., military honor guards may serve as ambassadors to the public, presenting a positive image of their service, and assisting with the recruiting effort.
Direct Contacts
Military Honor Guard NCOIC
Phone: (601) 313-6720
Mobile: (601) 665-3921

Military Honor Guard Training NCO
Phone: (601) 313-6543

​State Coordinator
Phone: (601) 313-6441
  Documents