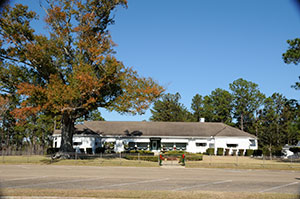 It is understood that the White House was first constructed at Camp McClelland, a Civilian Conservation Corps camp on the MS Gulf Coast (Biloxi).
In 1937, Camp McClelland was dismantled, and all the structures moved up to Camp Shelby as Shelby had been reacquired in 1934 by the state for a National Guard summer training site. The post was successfully reconstructed in 1937 with the US Army maneuvers occurring in 1938.
In 1940, the Mississippi congressional delegation reopened Camp Shelby as a federal installation and more buildings were constructed--and of course the rest is history with World War II beginning shortly thereafter.
During WWII, the White House served as home to Brigadier General Halloran and Brigadier General Haldane.​