About Us
Camp McCain is a State operated Training Center located approximately ten (10) miles south of Grenada, Mississippi and approximately three (3) miles east of Highway 51. It is established for the purpose of training Army National Guard and Reserve organizations.
Brief History
The United States Department of War acquired 42,073 acres of land located in Grenada and Montgomery Counties in the early 1940's for an infantry training facility.  Initially designated the Grenada Triangular Division Camp, the training facility was renamed in honor of Major General Henry Pinckney McCain.  Major General McCain was a native of neighboring Carroll County, known as the father of the Selective Service. 
From December of 1942 through July of 1944, Camp McCain provided training for two infantry divisions.  Approximately 50,000 Soldiers of the 87th and 94th Infantry Divisions trained for combat in the European Theatre.  The 87th Division completed its training in December of 1943, and the 94th Division in July of 1944.  In December of 1944, Camp McCain was designated an "inactive installation."
Camp McCain housed over 7,700 German prisoners of war through 1946.  Satellite camps were developed throughout the Mississippi Delta to house the POWs and allow them to work in the cotton fields. On October 15, 1944, the Department of War closed Camp McCain and declared its property surplus.  Its land and buildings were offered for sale to the public, and its buildings were removed.  Some of Camp McCain's buildings and equipment found their way to college campuses or small towns. 
In 1947, Brigadier General James H. Biddy and other officials recognized the importance of Camp McCain to the Mississippi National Guard.  Through their efforts, the Department of War transferred 3,000 acres of Camp McCain to the State of Mississippi as a weekend training site. The acreage included some of Camp McCain's pistol and rifle ranges. In the years that followed, the state of Mississippi added an additional 9,900 acres and numerous buildings to Camp McCain's facilities.
Over the next 75 years, the State of Mississippi developed and expanded Camp McCain.  Effective August 1, 1976, it received federal recognition with a Unit Designation of "ARNG Training Site Camp McCain."  Camp McCain currently encompasses approximately 12,900 acres divided into 21 training areas and includes 8 live-fire ranges.
Since 2001, Camp McCain has supported units preparing to fight the Global War on Terrorism.  In 2021, Camp McCain received Joint National Training Capability certification as part of the Mississippi Joint Forces Training Center.  It continues to support training for units of all military branches and various non-DoD entities.  Camp McCain annually supports training of over 60,000 Service Members and non-DoD personnel, who support national defense and domestic operations. 
Warriors Serving Warriors!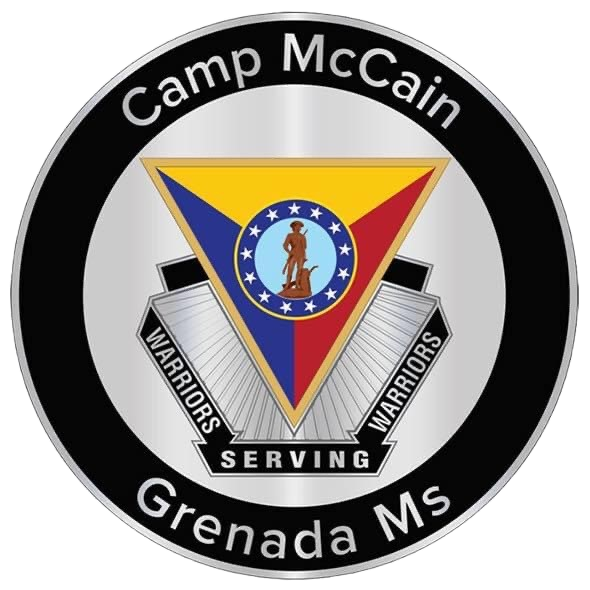 3152 James H. Biddy Road, Grenada, Mississippi 38901
Phone: (662) 294-0070
Email: ng.ms.msarng.list.public-mccain@army.mil