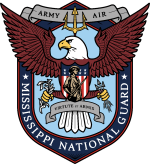 The Seal was approved November 9, 2020, by Major General Janson D. Boyles, the Adjutant General of Mississippi.
               
Description
Centered on a blue stylized vertical oval with light blue background and red borders, a Minuteman within a shield covering the breast of an Eagle holding an olive branch and three arrows. Below the shield, a scroll bearing "Virtute et Armis." A silver scroll bearing "Army" and "Air" behind Neptune's Trident. Enclosed by a red border with a dark blue background, bearing the words "Mississippi National Guard."
Symbolism
The Concord Minuteman, a traditional symbol of the Militia, stands within a shield symbolic of "The Great Seal of the State of Mississippi" covering the heart of the Eagle. The Eagle, holding an olive branch in his dexter talon and a bundle of three (3) arrows in his sinister talon, denotes a desire for peace but preparedness for war. Neptune's Trident is symbolic of the great Mississippi River. Neptune in Roman mythology, also identified as Poseidon in Greek mythology, in known as the "Father of Waters." A silver scroll bearing the words "Army" and "Air", represents the joint force. The inner field of blue is the ceremonial color of the Army, while the outer field of blue represents the Air Force. "Virtute et Armis" is the motto of the State of Mississippi, meaning "By Valor and Arms." The two stars under the eagle's wings represent the Adjutant General of the Mississippi National Guard's rank of Major General.
Incorporation of the Mississippi National Guard Seal, in part or whole, for use in new art design by elements of the Mississippi Army or Air National Guard, or the Mississippi Military Department will be approved by the command historian, for the purpose of inclusion into the Official Historical Registry, prior to implementation.
View the Mississippi National Guard Official Seal symbology defined graphic